Natural Health Leaders
My essential oil team is comprised of leaders who are passionate about helping others achieve great health through natural options! Experienced and educated on the many uses and benefits of essential oils, we provide educational classes and private wellness consults on a wide variety of topics!  If you are new to essential oils, and would like to have a class or private Wellness Consult, be sure to fill out the contact form!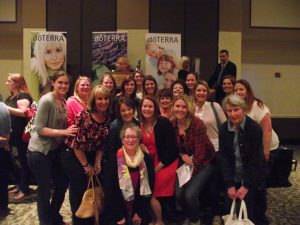 ESSENTIAL OILS:  What are they?
Pure essential oils are naturally occurring volatile, aromatic compounds that sit on the surface of plants. They protect plants from environmental threats and provide many other beneficial properties, such as attracting pollinators.  They are steam distilled or cold-pressed from the plant material, including the leaves, stems, roots, flowers, seeds, and the bark of trees.
HOW TO USE:
*The usage methods I describe pertain only to 100% pure therapeutic grade essential oils*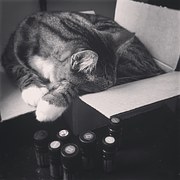 When using any essential oil on your pets, let it be their choice.  Hold the open bottle of essential oil you wish to use on your pet about 1-2 feet near his or her face.  If your pet gets up and/or leaves, you may want to choose a different oil.
There are 3 primary ways we can utilize 100% pure therapeutic grade essential oils:  Aromatically, Topically, and Internally
  Aromatic Use:  For pets, aromatic benefits can come from diffusing (an essential oil diffuser disperses the oils into very small particles.  I recommend only using a water diffuser that will also dispense moisture into the air along with the essential oil), applying a drop or 2 on the bedding, misting your pet with a spray remedy, or even just allowing the animal to sniff the oil right from the bottle.
Topical Use:  For pets to receive the benefits of essential oils through topical application, it's as easy as placing 1 drop of       essential oil in your hands, rubbing your hands together, and rubbing your pet's fur!  This method of application is super easy with great benefits.  For smaller pets, it's important to dilute the drop of essential oil in at least 1 tsp of carrier oil (like fractionated coconut oil) before topical application.  It's more beneficial to pets to apply an essential oil diluted and more frequently than to apply an oil neat (without dilution) once or twice.  Pets usually accept topical application well when applied to the back of the neck or rubbed on the belly.  Another option is to rub the diluted drop into the paw pads.  An easy way for cats to obtain benefits from topical application is by adding 1-2 drops of the essential oil to the litter box.
Internal Use:  The most practical way to administer an essential oil to your dog orally in in the drinking water.  1 drop in a bowl of water can prove to be effective no matter the size of the dog as long as it's a large water bowl.  If utilizing citrus essential oils in your dogs drinking water, be sure to use a ceramic or stainless steal bowl as citrus oils are known for interacting with the chemistry of plastic. Direct oral or internal usage of essential oils in cats is not recommended.  It is safer to utilize essential oils for cats through aromatic or topical application.
Pet Safety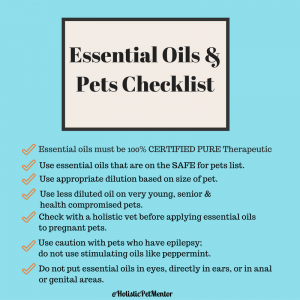 Best Essential Oils For Pets
HOW TO PURCHASE:
It is my goal to empower you to care for yourself and your pet (s) through a natural wellness lifestyle! Therefore, it is my goal to ensure you get the best prices, products and service!  If you decide to get started on your path to natural health & wellness with me as your Wellness Advocate and Pet Mentor, your consults (pet and personal) will be FREE!  Members have access to the essential oils and products I use and recommend; only the purest essential oils in the world!  So how do you get started? There are 2 ways:
 RETAIL OR WHOLESALE
 Retail: No Discount, No Membership, No Monthly order, No obligation to buy or sell.
Wholesale Membership: 25% off retail price, no obligation to buy or sell anything, $35 enrollment fee for the 1st year (or FREE with any enrollment kit), free bottle of peppermint oil when you renew, 10-30% back & shipping credits through Loyalty Rewards Program, on-line account access 24/7, member only promos and specials, no monthly order required, ability to earn commissions, education, support, and access to my team's private facebook groups!
If you are ready to get your wholesale membership started AND have me as your Wellness Advocate and Holistic Pet Mentor, click HERE to fill out the contact form and I will be in touch with you soon!